HIGH PERFORMANCE WATERPROOFING MEMBRANES

Xpress Range
Gripset Xpress range offers innovative suite of high performance sheet & liquid membrane systems for critical applications where enhanced durability, system longevity, fast turn-around times and cost efficiencies are essential.
Experience the latest in waterproofing technology.
Rapid waterproofing systems
Rain resistant and time saving
Australian Made
Uniquely Gripset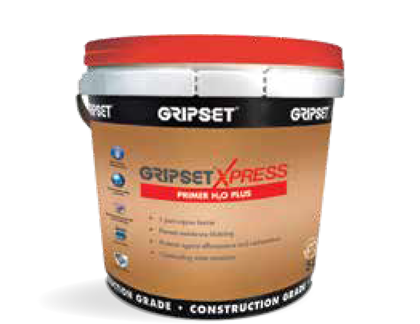 Gripset Xpress Primer H2O Plus is a unique 1 component vapour barrier primer designed for use on concrete, screeds and mineral surfaces.
1 component vapour barrier against residual dampness
Can be applied over damp and green concrete
Fast drying, enabling application finishes after only 1 hour
Water resistant, reduces efflorescence when applied over screeds
Best recommended surfaces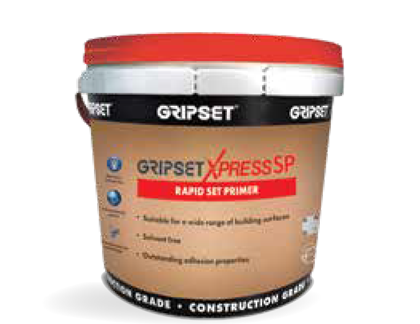 Gripset Xpress SP is a solvent free primer specifically designed for use on both wall and floor surfaces, achieving high adhesion without the need for etching or using solvents.
Solvent free alternative to dangerous solvent based primers
Bonds to a variety of metal, plastic, glazed, smooth & dense surface
Suitable on porous surfaces
Best recommended surfaces
Gripset Xpress Multi Pro Membrane is designed for the protection of external surfaces subject to UV exposure and harsh climatic conditions.
Rain resistant within hours
Used with Gripset Xpress Primer H2O Plus for unrivalled application speed
Ideal for balconies, decks, podiums and roofs as an exposed membrane finish
Complies with AS4858/AS4654
Best recommended surfaces

One of the primary features of XpressLay is that while providing high-performance waterproofing and vapour barrier properties, the tensile strength properties enable it to perform as a decoupling layer for tile beds, withstanding floor movement strains.
Rapid Self Adhesive Application
Able to bond and remove without surface adhesion compromise
3 in 1 Waterproof, Anti-Fracture and De-Coupling system
XpressLay PVC core provides outstanding resistance to vibration, movement and flexing
Best recommended surfaces